Organization Validation SSL
Güvenilir bir sertifika, ziyaretçilerinize sizin doğrulanmış bir kimliğe sahip olduğunuzu gösterir.
Organization Validation SSL nedir?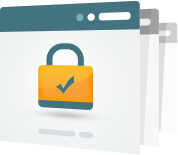 Organization Validated SSL Sertifikası anında kimlik doğrulama sağlar ve websiteniz ya da işletmenizi güçlü SSL altyapısıyla korur.
OV SSL firma bazında bir doğrulama sağlar ve domain bazlı doğrulama yapan diğer sertifika türlerinden daha güvenilir bir imaj sunar. Bu sertifika tarayıcınız için padlock'u etkinleştirir ve doğrulanmış firma kimliğinizi içeren https bağlantısı kullanmanıza ve müşterilerinize gizlilik ve güvenliklerini ne kadar önemsidiğinizi göstermenizi sağlar. Site ziyaretçileri, bu sitenin sahte bir site olmadığından, bir firmaya ait olduğundan emin olurlar.
Contains your Authenticated Organization Details
Certificate details indicate your website is using an Organization Validated SSL Certificate and include the issuing CA, validity status and expiration date.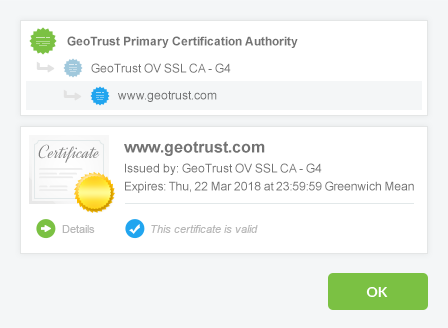 Organization Validated
With an OV SSL Certificate, the identity of the company or organization that holds the certificate is validated, providing more trust for end users.
Trust Site Seal
Our SSL Certificates come with a trust seal that has been proven to increase visitor confidence and customer conversions.
$1.25m Warranty
OV Certificates come with a $1.25m warranty that covers data breaches caused due to a certificate flaw.
Certificate Features
Secure online transactions
99.9% Browser Compatability
Our SSL certificates are from some of the most trusted brands in Online Security.



Powered by WHMCompleteSolution