Extended validerings SSL
Aktiver den grønne adresselinjen for høyeste tillitt og overbevisninger
Hva er Extended validert SSL?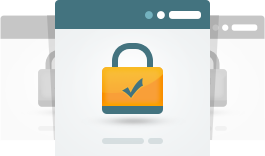 EV SSL er er utvidet validert sertifikat, som er det høyeste nivå av SSL tilgjengelig i dag, og gir deg maksimal kredibilitet og tillit til din nettside til sammenligning med bruk av OV eller DV SSL sertifikater.
Extended validert SSL sertifikat aktiverer den grønne adresselinjnen og viser at ditt selskap og organisasjons navn i adresselinjen. Dette er fremtredene visuelle indikasjoner, som viser dine besøkende at du har tatt ekstra steg for å bekrefte at siden de besøker er legitim, noe som øker de besøkendes tillit til din nettside – dette er hvorfor de fleste store selskaper og organisasjoner velger EV sertifikater.
Contains Your EV Authenticated Organization Details
Certificate details indicate your website is using an Extended Validation SSL Certificate and include the issuing CA, validity status, and expiration date.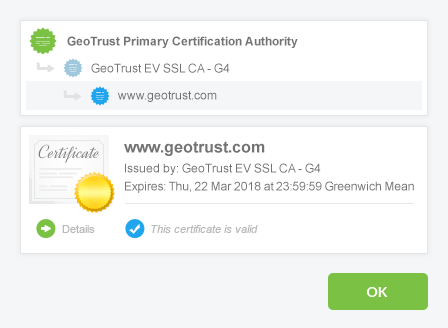 Green Address Bar
Activates the green address bar and displays your company or organization name for a prominent visual security indicator.
Trust Site Seal
Our SSL Certificates come with a trust seal that has been proven to increase visitor confidence and customer conversions.
$1.5m Warranty
EV Certificates come with a $1.5m warranty that covers data breaches caused due to a certificate flaw.
Certificate Features
Secure online transactions
99.9% Browser Compatability
Our SSL certificates are from some of the most trusted brands in Online Security.



Powered by WHMCompleteSolution