Domenevalidert SSL
Sikre din nettside på kun minutter!
Hva er standard DV SSL?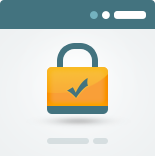 Domenevalidert sertifikat tilbyr en økonomisk og rask måte å legge til et SSL sertifikat på din nettside. Domenevalidert sertifikat verifiserer at du eier domenet, men kan ikke utføre noen andre verifikasjoner på organisasjonsnivå.
Domenevalidert sertifikat er ideelt for personlige nettsider, blogger og sosiale meida, eller sider som ikke overfører privat eller konfidensiell informasjon. Et domenevalidert sertifikat aktiverer nettleserens hengelås, og aktiverer bruk av https for å sikre at din nettsides besøkende og kunder ser at du tar deres personvern seriøst.
Delivered in Minutes for Instant Protection
The fastest and most affordable way to activate SSL protection for your website, issuance is quick and often fully automated.
Trust Site Seal
Our SSL Certificates come with a trust seal that has been proven to increase visitor confidence and customer conversions.
Boost your Google Ranking
Google uses SSL/HTTPS as a factor in determining search engine ranking. Add SSL today to help boost your Google ranking!
Certificate Features
Secure online transactions
99.9% Browser Compatability
Our SSL certificates are from some of the most trusted brands in Online Security.



Powered by WHMCompleteSolution